Helping Your Cat Feel Comfortable To And At The Vet
It's 6:00 pm, you have an appointment at the vet for 6:30pm, and you've been trying for the last hour to get your cat into the carrier. You've been hissed at twice, bitten once and have at least a couple of scratches on your arms.
Most, if not all cats hate going to the vets. Immediately when they see that carrier come out they remember the last appointment. Below are a list of techniques that are quite effective in helping your kitty get to and feel comfortable at the doctor.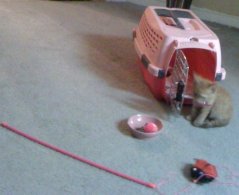 Bella As A Kitten By Her Carrier
Use The Cat Carrier For Other Trips Than Just Visits To The Vet
Our cats have great memories, and if the carrier is only used to take them to their docter appointments that is what they will associate it with. So go for a couple of short innocent car rides.
Take the Carrier Out In advance
Take the carrier out a day or two before the scheduled appointment. Give your cat a chance to sniff it and check it out. Our cat Bella loves to take a nap in her carrier a day or two before an appointment, it helps to makes her feel a bit more comfortable.
Treats, Treats and More Treats
Place some of your cat's favourite healthy treats in the carrier. This will entice your cat to go into the carrier; however this doesn't always work, especially the second or third time around. Our cats are very smart and will remember that you used this "trick" the last appointment, so enjoy this technique meanwhile it lasts.Although treats are a great way to entice and reward your cat, it is important to give your cat healthy nutritous treats, to find out how to choose a healthy treat for your cat read Cat Treats Can Be A Healthy Addition To Your Cat's Diet
Pet and Talk To Your Cat
Gently pet and talk to your cat in a calm reassuring tone. Spend some time before the appointment peting and rubbing your cat on his/her favorite spots, whether it be on the tummy, around the neck area or under the chin, the goal is to get your cat feeling comfortable and calm before attempting to place him or her in the carrier.
Now Your Cat's in The Carrier....Hopefully
Drive Carefully
Keep in mind that cat's also get motion sickness and are not used to all the bumps in the road.


Calming Talk To and Praise Your Cat In The Waiting Area
Meanwhile waiting for your appointment, hopefully it's not a long wait, continue to loving praise and reassure your cat. Your cat is used to your voice and only you can offer the support he/she needs through your tone.
Wait In The Car If The Waiting Area Is Too Noising
If there are dogs barking or there are alot of people waiting, inform the secretary that you will be waiting in the car. This will help to keep your cat calm.
Keep The Door Closed Through Out The Appointment
Although you've done a great job at keeping your cat calm, your cat might still jump out of the carrier once it's open and run to hide,this has happened to us. Make sure that the door is kept closed throughout the appointment, until your kitty is safely back in the carrier
Stay With Your Cat Through Out The Appointment
Throughout the entire appointment continue to stay by your cat's side, petting and reassuring him/her. You may also need to play the role of assistant to help your cat continue to feel comfortable. Remember those treats you brought along, this may be a great time to give your cat some. During the appointments\ your cat may shed excessively and may even use the docter's table as a litter, so be prepared to help clean up.

After The Appointment
After the appointment pet and praise your cat,wow, you've made it through another docter's appointment.
Related Topics
Finding A New Vet - Looking for a new vet? This article guides you through different effective ways to find a new vet
Questions To Ask A new Vet - A List Of Important Questions To Ask Your Cat's Potential New Vet.
How To Administer Medicine To Your Cat - Several Different Creative Ways To Administer Medication To Your Cat. Choose One That's Right For You And Your Feline Friend.
Vaccinations That Are Important To Your Cat's Health -Read To Find Out Which Vaccinations Your Cat Needs And Which Ones They Don't.
Cat Health Insurance: Pros And Cons - A Discussion On Both The Positives And Negatives Of Getting Cat Health insurance.
Is The Rabies Vaccine Necessary For Your Cat's Health? - A Detailed Information Guide On The Rabies Vaccine.




Return To Cat Health Home Page