Safe High Quality Cat Supplies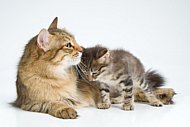 Having the safest cat supplies play an important role in providing a safe comfortable home for your feline friends. Although there are many cat supplies available both online and in local pet stores, not all products are safe and durable.
For example, plastic cat bowls are very popular, come in many different colors, shapes and styles, and can be easily found online and in all pet stores, however plastic cat bowls are easy to scratch, even without you noticing, resulting in a build up of bacteria within the scratches.
Plastic bowls also contain Bisphenol, a chemical that is found in plastic which is considered dangerous, this chemical can leak into your cat's water or food when a bowl is scratched.
Safety
Safety is very important when buying your cat a new product.When buying your cat a new accessory such as; a new cat bed or cat toy, make sure that there are no loose strings or small parts that can cause choking.
If you do buy a toy that has small parts, make sure to remove all small parts before allowing your feline friend to play with their new toy.
We recommended that with any new cat accessory that you throughly examine them first before your cat uses it and supervise your cat when they are playing with a new toy. Some toys are designed for solo play, which is great entertainment for your cat especially when your at work or out, just make sure that it is safe for your cat to play with when you aren't around to supervise.
Durability
Durability is important when buying products for your cat/cats, you want to keep your cats safe meanwhile they enjoy their new toy, but also don't want to buy a toy or cat bed that easily falls apart, causing you to have to spend extra money.
As cat owners there have been times where we have bought cat accessories that have looked attractive, but easily fall apart under the claws of our active cats.
Although through natural wear and tear,toys and supplies will eventually need to be replaced, the longer they last keeps our cats happy, who get very used to their cat supplies, and also helps us save money.



Here are some great supplies for your feline friends, we have safe cat food bowls, fun safe cat toys, and much more. We will consistently be adding more safe durable products.


Ten percent of our monthly sales is donated to a No Kill Shelter that provides a safe environment for homeless cats, so meanwhile buying safe products at affordable prices for your cat/cats you're helping to save the lifes of other cats. :-)










Return From Cat Supplies To Cat Health Home Page