Diabetic Cat Food: Choosing The Best One For Your Cat
Diabetic cat food, is it necessary for diabetic cats? Diabetes in both humans and cats, is a disease where in which the pancreas does not produce enough insulin, produces no insulin or your cells do not respond to the insulin that your pancreas produces. Insulin is required to transport the sugar in the foods that we eat to our cells, without adequate insulin, the sugar then builds up in our blood stream, leading to many different medical complications. So to answer the question, what your diabetic cat consumes plays an important part in how well and how long your cat will live with the disease.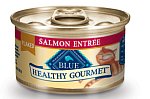 What Exactly is Diabetic Cat Food?
This type of cat food is high in protein and low in carboyhydrates, which is the best combination for both diabetic and all cats. Carbohydrates turn into sugar once consumed, as a result of this, high protein low carb canned food is usually recommended. Although some brands do make diabetic dry cat food, most hard foods are filled with fillers such as corn, corn meal, and grains, all of which are carbohydrates.
Even though canned food is highly recommended for diabetic cats, do keep in mind that some wet foods are also high in carbohydrates. It's crucially to read the ingredients and make sure the first 2 -3 ingredients that are listed are specific meats such as; chicken, turkey, salmon, duck.
This type of cat food also tends to be lower in calories, weight control is important since your cat's weight is sometimes one of the factors that caused the disease and can definitely make it worse if not controlled. Although diabetic cat food tends to be a bit more expensive, it is an important part of taking care of a diabetic cat.
Portion Control
Even though diabetic cat food tends to be lower in calories, being aware of how much your diabetic cat is eating is still important. Diabetes and being overweight are closely related both in humans and cats. Giving your cat 2-3 high protein low carb meals per day is a highly recommended way to feed your diabetic cat. It's important to discuss with your vet which cat food he/she recommends, this includes cat treats, and how much you should feed your cat daily.Feline obesity has been linked to diabetes in cats, to find out both the causes and how to prevent obesity in cats read Feline Obesity: Causes And Prevention.
Exercise
Whether your cat is diabetic or not, exercise is both an important part of prevention and keeping your cat healthy. Exercise helps to keep your cat's weight down and is a wonderful way to bond with your cat. There are many interactive cat toys where you can play with your cat, or independent cat toys, where your cat can play alone. To find out how to make fun and easy to make homemade cat toys visit Easy To Make Safe Homemade Cat Toys.
Similar Topics
How To Choose The Best Cat Food For Your Feline Friend - A Detailed Look At One Of The Most Important Aspects Of Your Cat's Health, Your Cat's Food.
Cat Food Bowls: Which Ones Are Safe For Your Cat? - An Examination Of the Different Types Of Cat Bowls And Which Ones Are The Safest.
Healthy Homemade Cat Food Recipes- Some Of Our Easy To Make Homemade Cat Food Recipes.
Growing Catnip- Tips on growing fresh catnip , the effects of catnip on your cat, and catnip toys.




Return From Diabetic Cat Food To Cat Health Home Page