Growing Catnip: Fresh High Quality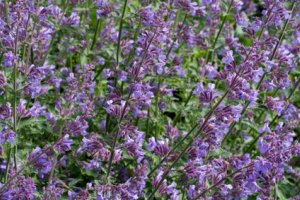 Growing catnip results in a light green plant with leaves that have scalloped edges and are slightly fuzzy.Catnip is a plant from the mint family that lets off a pungent scent that most cats are attracted to.
Growing your own catnip is better than the dry catnip that you can get in your local pet store in both quality and freshness.



How to Grow Catnip
Growing catnip is easy. You can purchase catnip seeds at your local pet store or even online. Once you purchase the seeds, it's best to purchase two-inch pots, and sterile potting soil. Fill the pots with the potting soil, then add some water, just enough to dampen the soil. Place the seeds in the soil, making sure to cover up the seeds with the soil. You may need to add more dampen soil to completely cover up the seeds. Place your pot(s) in a warm area, but out of direct sunlight and allow it to germinate.
When you see your plant begin to sprout, place it in front of a window or outside so that it can get a healthy dose of sunlight to grow. As with any plant, water your growing catnip regularly to keep it from drying out. However do not over water, plants breathe through their roots, and when you overwater them, they slowly suffocate causing root rot. Make sure to feel the top of the soil before you water it, if it is already damp, then it's not in need of water.
Growing catnip requires a lot of sun, so be sure the area you choose to place your plant is a place where it will receive lots of sunshine. Catnip requires regular watering, but it is also drought tolerant. If you have indoor cats, you may want to grow several pots of catnip that you can alternate inside and outside of the house, so that you can switch them every couple of weeks so they still get adequate sun.
While growing catnip, you can keep the plant full by pinching the stems of the leaves and blossoms. Watch your cat carefully if the catnip plant is grown outside. Some cats love the smell of catnip so much that they enjoy rolling on the catnip plant, however this can easily kill the plant. One way of protecting your outdoor catnip is to use bamboo to tie some of the stems or even place a layer of chicken wire arch over the plant to protect it from damage.
Catnip leaves are ready to be harvested when the plant is at least one foot high. Harvest the leaves by cutting them as they grow out, leaving behind the root so it can continue to bloom again and again.
What Are the Effects Of Catnip On Your Cat
Catnip affects around 50% of cats. The simple sniffing of the catnip stimulates your cat, meanwhile consuming it can actually sedate your cat. Cats react differently to catnip, some cats may be very hyperactive, meanwhile others may simply sit purring happily. Catnip has no affect on kittens younger that eight weeks.
Catnip Toys
Growing catnip is not only great for your cat to enjoy fresh, but it's also a good way to make catnip stuffed toys that will be attractive to your cat and keep them active.
Making catnip toys does not require the skills of a seamstress, just two pieces of fabric, a needle and thread, some uncooked rice to absorb the aromatic oils of the catnip and some fresh catnip.
Make sure to sew the fabric together tightly once you place the catnip and rice in the middle. If you are a bit craftier and into crocheting, you can make a ball about 2 inches in diameter out of 100% cotton yarn, then fill it with catnip and polyester fibre.



Growing catnip isn't too difficult. Some people compare it to growing weeds because it is bountiful and nearly effortless. You can decide to grow it inside or outdoors, but either way, beware of cats getting to it before it is well established. Harvesting the leaves too early can kill the plant. Growing your own catnip will allow your cat to enjoy fresh or dry and potent catnip year-round.
Similar Topics
How To Choose The Best Cat Food For Your Feline Friend - A Detailed Look At One Of The Most Important Aspects Of Your Cat's Health, Your Cat's Food.
Cat Food Bowls: Is Your Cat Using The Safest One? - A Look At The Different Types Of Cat Bowls And Which Ones Are Safe For Your Cat.
Cat Treats Can Be A Healthy Addition To Your Cat's Diet- How To Buy Healthy Cat Treats.
Return From Growing Catnip To Cat Health Home Page