Cat Beds: A Guide On Choosing The Best One For Your Cat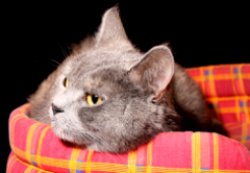 Cat beds, are they really necessary? Cats spend approximately 14-16 hours per day cuddled up sleeping, lucky them. If your cat isn't given their own bed to sleep in they will usually end up either using one of your most comfortable piece of furniture as their bed, leaving lots of cat fur behind, or they may end up sleeping somewhere you don't want them to, like a laundry basket.
Your cats deserve their own special bed to enjoy a peaceful sleep. How do you choose the perfect bed for your feline friend, here are some tips.



Important Features To Look For When Buying A Bed For Your Cat
Right size for your cat
Comfortable
Provides Warmth
Strong and Durable
Easy to clean
Safe(No hanging fabric or strings)
Firm enough to provide support
Size
There are so many beds for cats for sale both online and at your local pet stores that it's sometimes hard to know which ones to buy. A cat bed should always be big enough so that your cat can easily snuggle up in it, and easily get in and out.
If you noticed that your cat, who isn't a little kitten any more is not using their bed, it may because they no longer fit properly into their bed and need a bigger size.
Warm and Cool
Cats love to feel warm in the winter and cool in the summer, just like humans, so a cat bed that helps to retain your cat's body heat, like a cup style cat bed is great for the winter and an open style cat pad bed that allows your cat to feel cool air is great for the summer.



Material and Durability
Cat beds come in many different styles and material, from wicker to cotton and from the windowsill bed to cat sleeping bags, it's important to look for a cat bed that is soft to the touch, looks cozy but also strong and durable.
Since your cat will be using their bed on a daily basis you will eventually need to replace it, but cats do get very attached to their , cat accessories so the longer your cat's bed last, the better it is for your cat and your wallet.



Easy to clean and Safe
Once your cat gets used their bed, they will start to use it every day for hours and will natural leave their cat fur all over their bed, so it's important than it is easy to simply place your cat's bed or a removable mattress in the washing machine.
There are some really cute cat beds with lace and other fashionable accessories, mini human beds I call them, but although it's fun to buy those cute beds, it's important to make sure that they are safe for your cat to use. Hanging strings, lace or little studs that can fall off can be easily digested by your cat which can cause choking. It best to purchase a cat bed that is free of these fashionable accessories, no worries you can still find cute beds for your cat/cats that are safe.
Where to place your cat's bed
Cats tend to choose a quiet place where they feel safe to sleep. The best place to place your cat's bed is in a area where they have already destinated as a safe sleeping area. If your cat likes to sleep up high, then it's best to place the bed somewhere that's safe but high.
If your goal is to change the sleeping area that your cat is currently using, then a nice cozy quiet area would be best, entice your cat to use their bed by making it smell familiar, rub one of their blankets on their bed so that it has their scent. Reward your cat with praise or cat treats when they begin to use their new bed.







Similar Topics
Cat Collars: How To Choose The Safest One For Your Cat - Cat collars come in many different colors, designs and materials, however not all of them are safe for your cat. Here is a free guide on how to choose the safest cat collar for your cats.
Fun Interactive Cat Toys - Interactive cat toys are both fun for your cat and a great way for your cat to get a healthy dose of exercise. Here are some great affordable interactive cat toys.
Scratching Posts: A Guide On Choosing A Strong Durable One For Your Cat - There are many poor quality scratching posts that are easily damaged by your cat's claws. Here is a free guide on how to buy a durable high quality scratching posts for your cat.
Cat Harness: How To Choose The Right One For Your Cat - Discussing different types of cat harnesses, prices and how to introduce a harness to your curious but cautious kitty.
Cat Toys: A Guide To Buying Safe Durable Cat Toys For Your Cat - Although there are many cat toys, not all are safe for your cat, find out how to choose safe cat toys.
Return From Cat Beds To Cat Health Home Page